Class Descriptions | Studio Policies

697-9898 office@footlitesdance.com
2017-2018 Registration Forms:
Please fill out all 4 pages of our registration form posted below. Thank you!
Registration Forms Page 3&4 Policies and Dancer Information.pdf
Registration Forms Page 3&4 Fees and Registration Form 2017-2018.pdf
Studio Calendar Calendar 2017-2018.pdf
Class

Ages

Duration

Ballet and Tap Combo

3 – 5yrs old

30 min per class

Hippety Hop

(ONLY if enrolled in Ballet and Tap)

*does not apply to summer classes

5- 6 yr olds (Kinder)

30 min per class

Ballet, Tap, Jazz, Hip Hop

1st grade

45 min per class

Tap, Jazz, Lyrical, Contemporary, Hip Hop, Cheer

2nd – 12th grade

45 min per class

Ballet Classes, Tricks Turns and Leaps, Tumbling, Ballet Tech

2nd – 12th grade

1 hour class min per class

Flexibility

7 – 18yrs old

45 min class

Pre-Pointe and Pointe

12 yrs and up

Teacher Approval

2 hour class

First hour is Ballet Tech

Adult Classes
Hip Hop, Jazz and Contemporary

None scheduled yet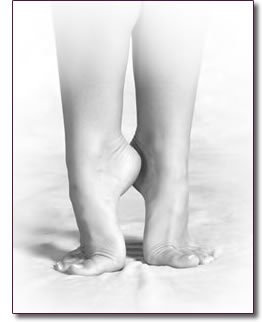 BALLET
Offered to all ages in various levels, ballet is the foundation of dance. Body placement, flexibility, balance, alignment, strength and technique are achieved through barre and center floor work. Sound ballet technique is essential for strength, power, and execution for each dancer.

TAP
Offered to all ages in various levels. Tap combines the study of rhythm, precision and the fluidity of movement and style. Tap dancing is an excellent way to increase the coordination and develop musicality.
JAZZ
These classes feature a concentration in jazz technique. Through proper warm up, effective stretching, body isolations and floor work incorporating center floor and across the floor combinations, each level builds on the previous one leading to greater understanding and proper execution of the many styles of jazz dance.

HIP HOP
Offered to ages 6 & up in various levels. Focus is on the latest street styles of hip hop. This class teaches rhythm, musicality, coordination, and age-appropriate hip hop choreography. This is an excellent class for high-energy kids who want to take a fast and fun dance class. Dancers are encouraged to push themselves to explore new movements and to move to intricate rhythms. Dancers are continuously learning new stalls and tricks in each class.
LYRICAL
Lyrical dance is a modern dance form which fuses modern dance, jazz, and ballet. Lyrical dance is often referred to as contemporary dance.
TRICKS, TURNS AND LEAPS
This class is excellent for anyone who is serious about advancing their skills as a dancer. Students will be working on technique, focusing on correct body and arm placement on turns, leaps, jumps, etc. This class also offer strength building exercises and improve flexibility. Students will also learn today's latest stalls and tricks.
TUMBLING, BALLET TECH AND D.E. TECH
Information Coming Soon....
CHEER
This is a fun energetic class for the future cheerleader! Fun routines, cheers, chants and stunts are taught by a certified instructor.
BOYZ HIP HOP AND TAP
We offer two classes just for boys! Our hip hop class is the perfect class for that high energy child wanting to learn the newest hip hop moves and freezes. We have 2 separate hip hop classes for the boys, one for the younger 1st – 4th graders and one for the more advanced boys, 5th grade and up.
The boyz tap class is an upbeat fun class focusing on musicality, rhythm and coordination.

Welcome to the FootLites Dance Studio family. This short packet will acquaint you with the rules and policies we operate under. If you have questions, please feel free to stop in, call or email Mary Jill or Mandi at office@footlitesdance.com or 509-697-9898. We look forward to working with you and your child!

The current dance season runs from September 15, 2014 through the recital on June 14, 2015.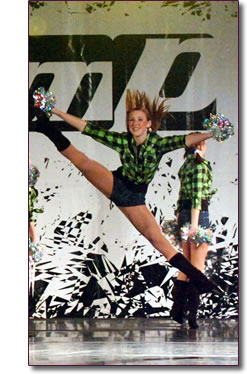 CLASS ATTENDANCE:
Students may attend a makeup class within 30 days of missing class for illness or a personal absence. The student must check in at the front desk and must attend a class that is appropriate to their level. There are no refunds or proration.

DRESS CODE:
Students must dress appropriately for dance class. Hair should be pulled back and out of your child's face. Please do not wear your dance shoes outside or your street shoes inside on the studio floor. LABEL all dance items. Individual instructors may permit variations of the dress code.

Ballet: Leotard, skirt and or booty shorts and pink ballet shoes. *3rd graders and up: Black leotoard, pink
tights, hair in a bun
Jazz/Lyrical/Contemporary: Fitted dance wear, jazz shoes, foot paws or pirouette shoes

Tap: Fitted dance wear, black tap shoes

Hip Hop: Comfortable clothing and clean tennis shoes
All Other Classes: Fitted dance wear, no street clothes
VIEWING POLICY:
For the benefit of all students, parents are allowed to watch class the first lesson of each month only. We are willing to make exceptions for special requests. Ex. Grandma and Grandpa are in town. :) Please clear with instructor prior to your child's class.
TUITION:
Our program is based on a 9 month season running September through June. Monthly tuition is the same each month, September through May regardless of attendance, school closures, and holiday vacations. Class Tuition is due the first lesson of each month. If payment is not received by the 10th of each month, a Late fee of $10.00 will be assessed for each outstanding balance per account, per month. Please pay your tuition on time. WE DO NOT SEND OUT MONTHLY STATEMENTS. A $35.00 fee will be assessed for each returned check. Payments may be made by check, cash, Visa, Master Card, or Auto Pay. Payments may be made over the phone with an added $2.00 fee.
Auto pay is an easy way to pay your account. Simply register with the front desk and we will automatically charge your credit or debit card on the 1st of each month for the balance due.
Discounts:
Pay the full year (Sept - May) by Sept 19th and receive a 10% discount. Must be paid by a check or cash to recieve the discount. This does not apply to Dance Explosion tuition and will exclude the sibling discount.
Registration Fee: $25 which will include a FootLites T-shirt in the spring and Recital Music on a CD.
Proration: We do not prorate tuition. However, if we cancel a scheduled class a credit will appear on your account.
Late Fee: We apply a $10 late fee after the 10th of each month.
Costumes: Will be between $50 - $85 per class
Returned Check Fee: $35
Recital Tickets: Assigned Seated Tickets will go on sale in May for our Recital at the Capitol Theatre in June.

We cannot refund any costume payments

Dropped Class: You may not drop or change classes in the current month you are in. An add/drop class form must be filled out by the 15th of the current month to be effective for the following month. Your class will not be dropped or added just by informing your instructor.
Private Lessons: We schedule all private lessons through the front desk.
COSTUMES:
Each student participating in the Spring Recital will be responsible for purchasing a costume for each routine they perform in. The costume fee does not include tights, props, and appropriate dance shoes for performances. A $40.00 costume deposit per routine is due no later than Nov 1st. The remainder of your costume balance is due in January during costume week when all costumes are chosen. If the balance is paid after Jan 15th, additional shipping charges will be added to your account along with a $10 Late Fee per costume. No costume will be ordered without full payment. All costumes are non-refundable and no costumes will be handed out to any student with an outstanding account.
COMMUNICATION:
Monthly Newsletters are sent home each month with your child. We are using our website footlitesdance.com to keep current rehearsal schedules, new information and these policies on line, up to date, and convenient.
Thank you for choosing FootLites Dance Studio for your dance education! We look forward to watching your dancer grow!